PCB Design Software
If you very often develop electronic products, then you may need to develop the PCB that is Printed Circuit Boards. Since, creating PCB of a circuit reduces very much space as well as cost the pcb design software is used by both professionals and small designers.
If you are looking for the best free pcb design software or a platform, then we have come up with various paid as well as free pcb design software list. As per their functions and features specified you can very easily define that which PCB designing software best fits your needs the most.
There are paid as well as free software available which provides various features some of them even provide unique features which you do need to pay for, its up to your requirements to go for it.
Below are the factors you should consider while choosing your pcb design software whether you are looking for a free or a paid software.
Useful features of the software : You should know the main features of pcb design software which are needed on your project and select the designing software which has all the features needed in your circuit or project.
Robust library of the software : You are always recommend to select the pcb design software which has a large library of electrical components and equipment. Since a robust library is must if you do develop the circuit very often or you use very rare electronic components. So, it's better to choose the software which probably has all the components which either you need or you are going to need later.
Go with a well-established platform : You need to use a software which has been used by thousands of professional designers before you.
We all see new platforms being introduced everyday. So, when you choose the pcb design software especially if you are going to spend a buck on it you should always go for a platform that has been there for a long time, has a large amount of users or has a good user reviews or ratings.
List of the Best and Free PCB Design Software
Below is the the list of best free pcb design software which are preferred by circuit designers.
ExpressPCB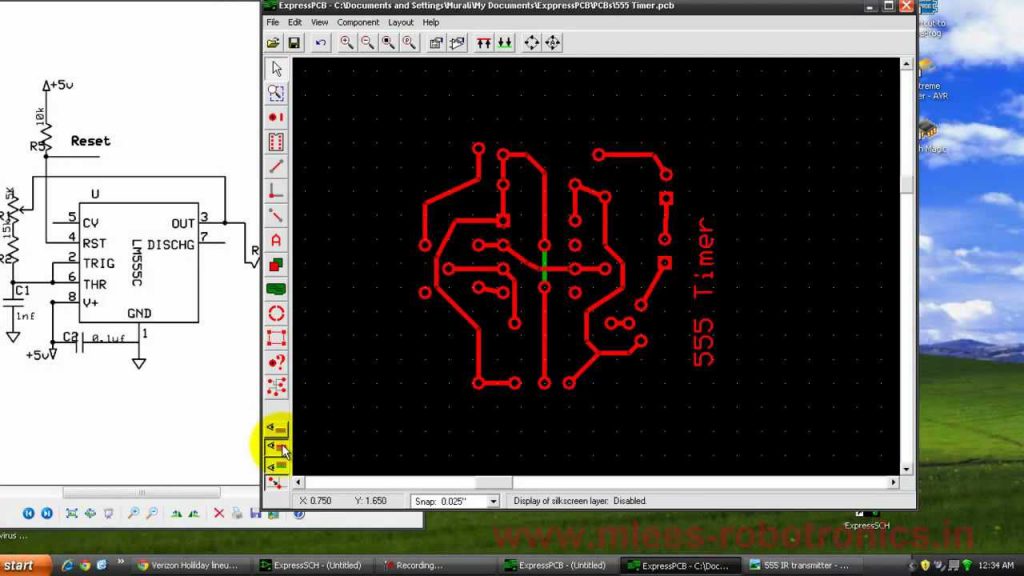 ExpressPCB is a free software with combination of helpful features for PCB design purpose. What makes this pcb design software more helpful and unique is that it can be used for both the layout and schematic drawings.
Some of the important features of ExpressPCB are as follows:
It has an auto router which helps you to work with pcb as it automates the process of connecting the components in your layout.
It has an in-built trace optimizer which traces the overall circuit or the portion of it and shows you the output.
While working with ExpressPCB you can directly draw on the silk layer.
It comes with a netlist window.
You can easily link your schematic files with this pcb and the software itself will show that which pins have to be connected togather.
Also see Solar Battery Charger Circuit Explained in Detail
DesignSpark PCB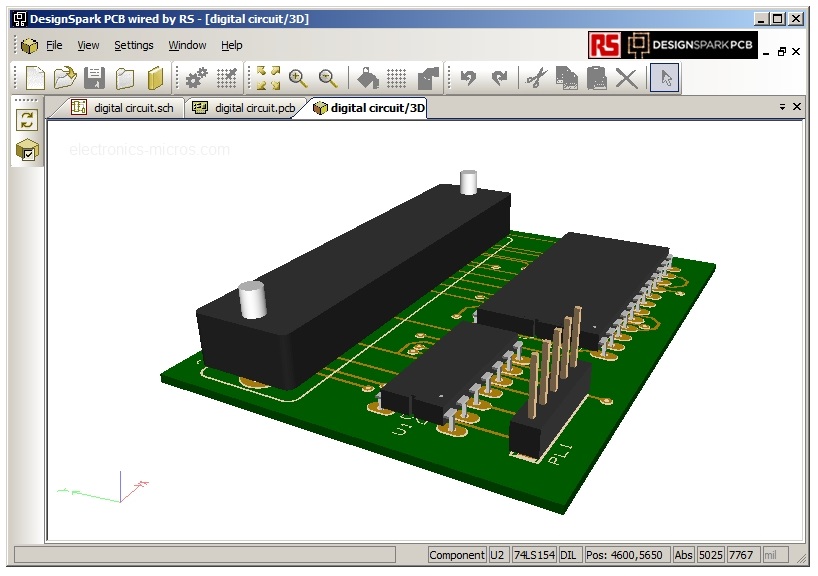 The PCB designing software is best for professional designers as well as hobbits, since it is very easy to learn and use. The software is preferred by most of the professional designers and has a huge community of users.
Some of the useful features of DesignSpark PCB are below :
While working with a PCB layout you can easily capture schematic designs.
You can design your own shape of PCB boards.
You can improve the layouts with easy tools provided in the software.
You can interface it with other tools also like LTSpice.
Also see FM transmitter circuit
Kicad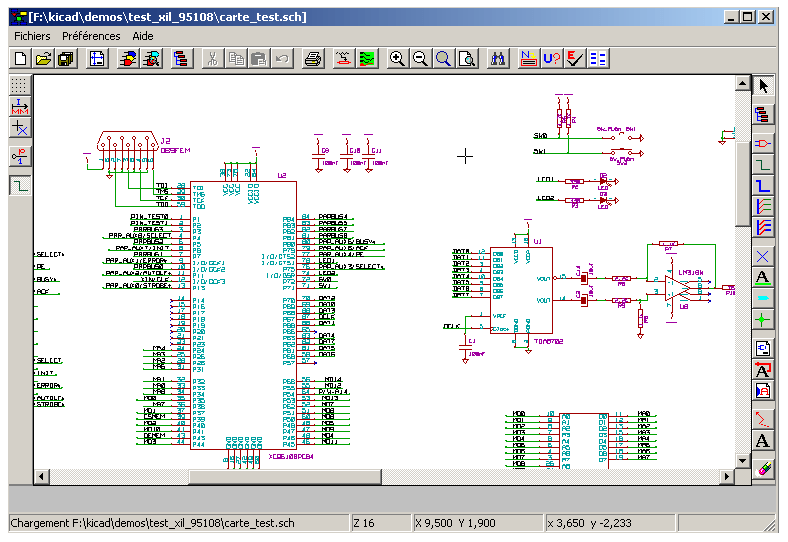 This PCB design software provides a great support to the open source hardware community. Some of the important features of Kicad are as follows:
With the help of Kicad software you can design almost any size pcb.
The software provides you the ease to design the PCB with any number of layers.
Kicad is available for all the platforms such as Linux, Mac and Windows.
The 3D visualization tool is what makes it stand out of the line when it comes to design PCB as we can visualize the shape as well as dimension of our PCB.
Also see Wheatstone Bridge
Fritzing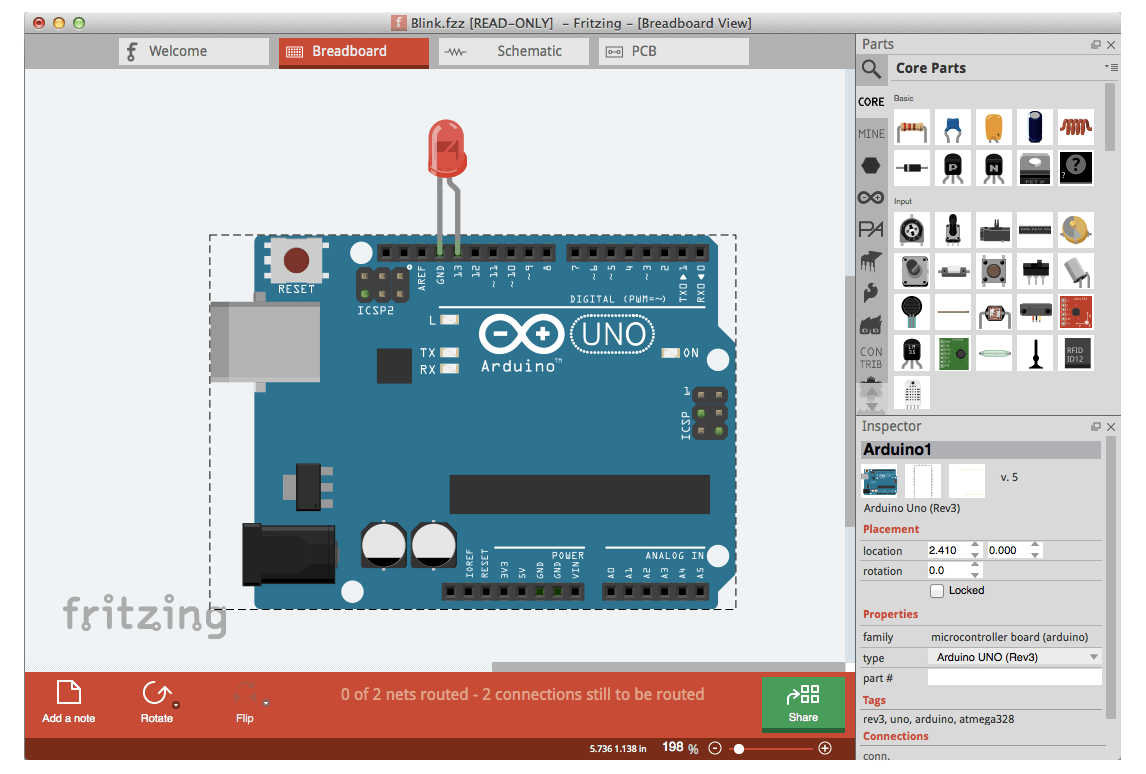 Fritzing is a multipurpose open source PCB design software and the best option for Arduino prototyping. Some of the important features of Fritzing are as follows:
It is best pcb design software for non-technical as it is specifically designed for both experts as well as hobbyists.
The PCB design software has four different set of tools such as the Breadboard View, PCB View, Parts and programming Options.
Fritzing can be run on different computer platforms such as Mac, Windows and Linux.
Also see Air Flow Detector Circuit Working and Application
TinyCAD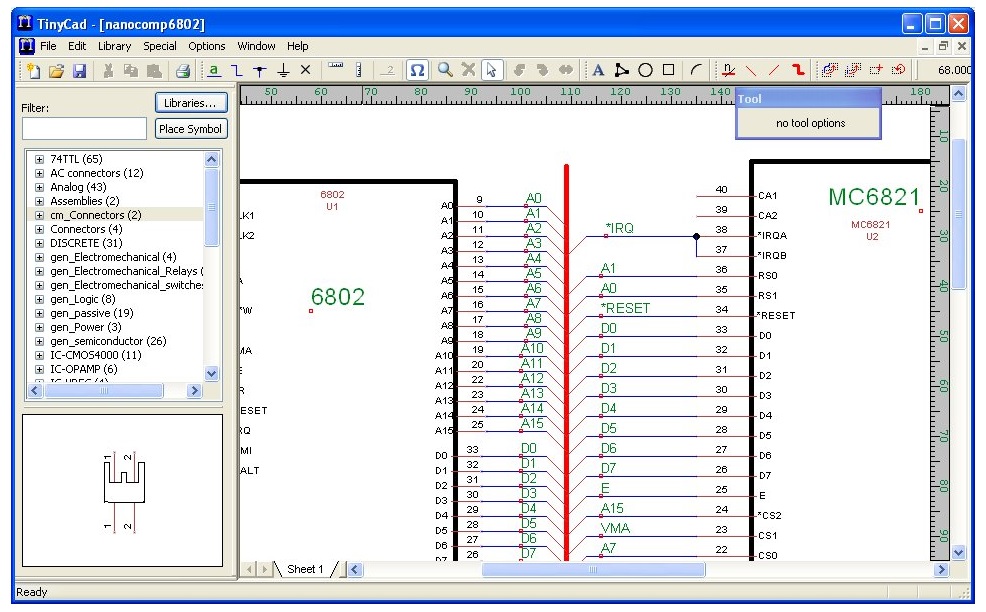 The software is specifically used for PCB layout and schematic capture. However, the TinyCAD is available only for Windows platform.
Some of the important and useful features of TinyCAD are below:
The PCB design software supports the huge library including the standard libraries as well as custom symbol libraries.
TinyCAD is very helpful and can be used for different type of programs such as line, block or presentation diagrams.
The software allows its users to export and publish the PCB layouts in image formats such as JPG, PNG and BMP which can be easily used for documentation.
So, Above are the pcb design software which are preferred by most of the professionals. In these software you can rely for getting the best PCB designs and layout.
NOTE : Most of the PCB designing Software discussed are free for all but some of them may need paid subscription to access the more features and functions.
Also watch Full Wave Bridge Rectifier Circuit Working and Application